Whether you need your tires serviced or you need brand-new ones, you can get all your car's tire needs taken care of at the service center at Fred Beans Hyundai. Our service center is staffed by expert technicians who have been specially trained to work on Hyundai models, so you can rest assured that your car is in the most capable hands. If you have any questions about your car's tires, don't hesitate to give us a call and speak to one of our knowledgeable technicians for help and advice.
Tire Lifespan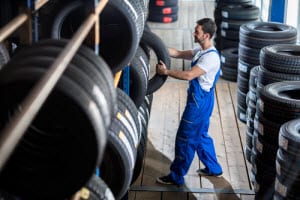 Your vehicle's tires can last for years, but they'll need a little bit of attention to do so. Taking care of your tires so they stay in good condition is essential to staying safe on your drives around Chalfont, Warrington, and Doylestown.
The first thing you'll need to check on is your tire pressure, as improperly inflated tires can wear down much more quickly. When your tires are overinflated or underinflated, you may find that your car has poor handling, so be sure to check them every so often, especially during changes in the weather. If your tires are not properly inflated, you can bring your car in and have them pumped up by our team.
Another way to extend the life of your tires is to have them rotated during your regularly scheduled maintenance appointment. Normal use can cause your tires to wear unevenly since each one performs a different task. And so, it's a good idea to get them swapped around on the car to ensure that they all have the longest possible lifespan.
Tire Pressure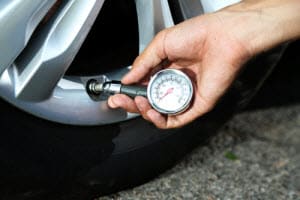 Keeping your car's tires properly inflated is essential in keeping them from wearing down. Driving on underinflated tires wears them out quicker due to uneven pressure on the sidewall, which can lead to flat tires. In a worst-case scenario, this can also lead to the shredding of the tire off the wheel. Low tire pressure wrecks your vehicle's fuel economy as well.
On the flip side, driving with way too much air in your tires is also dangerous. Having too much air pressure in a tire decreases the size of the area where the rubber meets road. This can lead to less grip and control over your car. If you check your tires and find that they are not properly inflated, you can bring your car into the Fred Beans Hyundai Service Center to have them checked and brought back to the suggested level of inflation.
Tire Replacement
When your tires are completely worn down, it's time to get some new ones, so you have enough road grip and traction to keep you safe on your drives. You can determine the tire size you need for your particular vehicle by locating the combination of letters and numbers on the side of your current tires. Let us know what you need, and we'll get them ready to go on your car right away!
Schedule Your Tire Service
If your tires are worn down or need a little bit of care, the experts at Fred Beans Hyundai can help, so you'll always be safe on the road. When you need service, head to our service scheduling tool, or give us a call and we'll reserve a date and time that work for you!
Additional Resources: