Welcome to Wheel Alignment 101, brought to you by the team of automotive experts at Fred Beans Hyundai. In this article, you'll learn everything you need to know about the all-important wheel alignment, so you can become an auto expert! We'll discuss the terms you'll need to understand, and how to know just when your car is due for an alignment, so it's always in good shape for your drives around the Doylestown, Warrington, and Chalfont areas. Ready to learn?
Wheel Alignment Terminology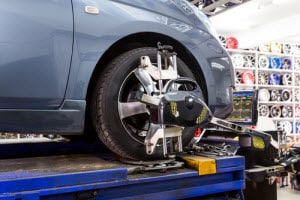 If you're not familiar with the terms used to describe a wheel alignment, it can be tricky to understand what your car needs or what your mechanic is trying to tell you. No worries, there's just three terms that you need to know.
Caster: When the car is tilted forward on the wheels, the wheels are behind the main load of the vehicle, giving it a negative caster. Similarly, if the car is tilted backward, it has a positive caster.
Camber: This has to do with the angle of the wheels in relation to the road surface. If the wheels are tilted outward, so the inside of the wheels are raised slightly from the ground and the top of the wheels are directed outward toward the sides of the car, that's a positive camber. The opposite is negative camber.
Toe: When the wheels are pointed together toward the front of the vehicle, you have an example of positive toe. When they're pointed away, you have a negative toe.
Wheel Alignment Importance
Each vehicle has a unique combination of adjustments for the caster, camber, and toe of the wheels that is most ideal to give the car the proper alignment and handling. When properly adjusted and driving on a straight, flat road, the car should travel forward in a completely straight line without you having to adjust the wheel.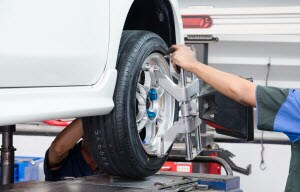 Wheel alignment can be easily thrown off, however, and even a slight variation in the proper alignment can cause issues with driving. Driving across certain road conditions, such as hitting a pothole or driving over bumpy rocks, can cause the wheels to move about. Even regular driving on normal road surfaces will misalign the wheels over time, so it's likely you'll need to get your wheels aligned by a mechanic every so often.
When Do I Need a Wheel Alignment?
Some common signs that your car needs a wheel alignment include pulling to one side or the other instead of driving straight, uneven wear across the surface of your tires, and loud squeaking or squealing as you turn around corners. When you know to pay attention for these signs, you'll be able to get them corrected right away, so your car is always safe to drive around the Doylestown, Warrington, or Chalfont areas.
If you have any more questions about your car's tires, check out Fred Beans Hyundai tire service near me page for more information on car's tires.
Schedule Your Wheel Alignment Today!
If your car is exhibiting any of these signs, then it's time to stop by our service center. You can get all your car's tire needs taken care of at the service center at Fred Beans Hyundai. Our service center is staffed by expert technicians who have been specially trained to work on Hyundai models, so you can rest assured that your car is in the most capable hands. Schedule your appointment online with our service schedule tool. We look forward to servicing your vehicle!