Have you heard the old adage that you need to get your oil changed every 3 months or 3,000 miles? That particular story is long outdated and simply no longer true. If you're wondering when to change oil on a new car, the answer depends on a great many factors, but in the end, it's much longer than the old 3,000-mile limit.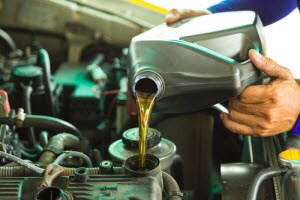 Each car will have its own manufacturer's recommendations for standard routine maintenance and it's important to follow those recommendations to keep your car running like new. Here's a look at the general guidelines on when to change oil on a new or used Hyundai, and where to go to get the best service for your car.
When to Get an Oil Change
The answer to the question of when to change oil depends largely on the make and model of car and how hard you drive it. If you drive frequently in extreme temperatures, do a lot of stop-and-go driving in heavy traffic, spend a lot of time on rough road conditions like gravel or dust, or do a lot of hauling, then you may need more frequent oil changes.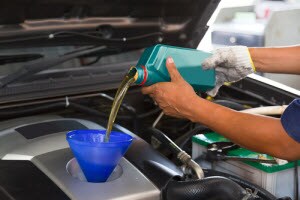 Likewise, your engine type and the kind of oil you use determines what kind of oil you need and how often to change it. Diesel engines and turbocharged engines have different frequency requirements than standard gas engines. Modern synthetic blends can last longer than conventional oil, but not all cars can use them.
Oil Change Guidelines
Regardless of the conditions, your car doesn't require oil changes as frequently as vehicles once did. Modern engines are designed to go anywhere from 5,000 to 10,000 miles between oil changes. You can stretch this out to every 6 months to a year based on your manufacturer's recommendations.
Again, however, it can be tricky to determine how often you need to get your oil changed based on your driving needs and the individual model of car and options you choose. Many Hyundai vehicles, for example, come in a range of different engine options and performance levels. Each one of these could have its own requirements for sticking to a regular maintenance schedule.
Getting Regular Maintenance
When the time comes to start on your regular schedule of routine maintenance, your best bet is to work closely with your local Hyundai dealership. A Hyundai dealer will have certified technicians who are specially trained to work on Hyundai vehicles, and can work to make sure that your car or SUV keeps running like new for many years down the line.
If you're in the Chalfont, Warrington and Doylestown areas and you'd like more information about when to change oil in your car, Fred Beans Hyundai can help. We're here to keep every car that comes into our shop running just like the first day it drove off of the showroom floor, no matter how many miles are on the odometer. Give us a call or stop into our service center and talk to one of our certified repair technicians for help today!