Preserving your car in Chalfont, Doylestown, and Warrington is a major responsibility, which is why it's extremely important that you pay attention to the signals your car is sending, as they could indicate a vital problem. Low engine oil, for instance, is one of the most common problems that your car can experience and is easily addressed as long as you know the warning signs.
If you're not familiar with the signs that your engine is running out of oil, it's a good idea to learn a little more about this issue and why it's so important. Here are a few symptoms of low engine oil that you should watch out for if you want to keep your car running and on the road for thousands of miles to come.
Alarming Engine Sounds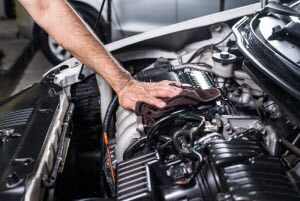 Most people tend not to notice that there's a problem with their car until the warning signs can't be ignored, and this is especially true when it comes to the symptoms of low engine oil.
The oil in your engine is crucial because it keeps the moving parts lubricated, which protects them from damage. If you allow your engine oil to run low, your engine parts can rub together, resulting in harmful friction that may result in complete engine failure. When your engine parts begin to contact each other, you'll hear a knocking or grinding noise coming from your engine compartment. These noises should never be ignored, as they mean your engine is tremendous danger.
Potent Burning Odor
When the oil in your engine starts to get low, a possible cause is a leak in your system. When there's a leak, your oil will drip into the engine compartment.
If oil drips onto your engine, it'll cause a pungent odor, and when you notice this smell, you must immediately pull over your vehicle and turn off your car. If you have a dipstick, take it out and check your oil level. If it's lower than normal, call a service professional. Do not attempt to drive your vehicle, as you may risk malfunctioning of your engine.
Oil Warning Light
If you're driving a recent model car, discovering that your engine oil is too low should be very easy, as your vehicle is likely equipped with an engine oil warning light. When the engine oil in your car starts to run out, this light will activate, alerting you that you need to find a service station and put more oil into your car. Although there can be differences in warning symbols from car to car, your engine oil warning light will usually look like an oil lamp.
Help with Symptoms of Low Engine Oil
Now that you know the common symptoms of low engine oil, you should be able to keep your engine properly lubricated, so that it'll last for years to come. If you need help filling or changing your engine oil or any other maintenance needs, you can visit the service and parts department at Fred Beans Hyundai.
Fred Beans Hyundai is the most dependable maintenance resource for car owners in Warrington, Chalfont, and Doylestown, and our team is ready to help you. Schedule a service appointment online today.