Compact SUVs are some of the most popular vehicles for drivers throughout Chalfont, Warrington, and Doylestown thanks to their top-level performance and utility. Although the compact SUV class is characterized by several amazing models consumers will love, the two that lead the pack year after year are the Hyundai Tucson and the Ford Escape.
If you're considering driving either of these tremendous vehicles this year, you can more easily make your decision by comparing them in a side-by-side match-up. Discover whether the 2017 Hyundai Tucson or the 2017 Ford Escape wins the competition to be the year's best, most exciting compact SUV.
Choosing Superior Handling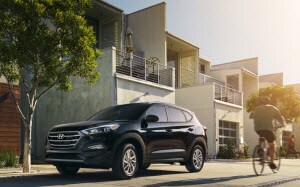 Getting access to superior handling and stability is important no matter what vehicle class you're considering, but it is especially critical when you're interested in a compact SUV. Luckily, whether you drive the Hyundai Tucson or the Ford Escape, you'll be getting the smooth handling that you deserve.
In the Escape, you'll find an intelligent four-wheel drive system that constantly monitors road conditions and adjusts its settings so that you always have a superior level of traction. For both stability and control, however, you need to choose the Tucson and its all-wheel drive system that includes Active Cornering Control technology.
Ride in a Comfortable Interior
If you typically spend a good deal of time on the road in Doylestown, Chalfont, and Warrington, you want to make sure that any vehicle you choose offers a comfortable interior. Anyone looking for a supremely comfortable interior need look no further than either the 2017 Hyundai Tucson or the 2017 Ford Escape.
The interior of the Escape has been completely redesigned for this model year, providing excellent features like available leather trimming, an attractive steering wheel with heating capability, and an easy-to-use instrument panel. The interior of the Tucson borders on the luxurious and features such irresistible options as ventilated/heated front seats, a second row with class-leading legroom, and 61.9 cubic feet of storage space. Read more about its interior features in the Tucson vehicle review.
Using Cutting-Edge Technology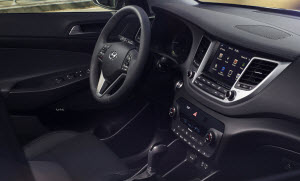 Any vehicle worthy of your consideration will include fun and useful technology, and this is possibly the best reason to take a ride in either the Hyundai Tucson or the Ford Escape. Both of these vehicles offer features that will impress tech-savvy consumers everywhere, making either vehicle a superior choice.
With the Escape, you'll get technology options focused on driver convenience, including a SYNC3 infotainment system and an Enhanced Active Park Assist system to help you with tough parking jobs. If you want excitement, you want the Tucson and its tech features that include Apple CarPlay and Android Auto support, a standard touchscreen audio system with rearview camera, and an available navigation system.
Experience the 2017 Hyundai Tucson
Anyone interested in driving the top compact SUV on the road needs to be sure to choose the exceptional Hyundai Tucson. When compared directly with its top competitor, the Ford Escape, the Hyundai easily proved itself to be the leader of the compact SUV class. If you want to learn more about the 2017 Hyundai Tucson, your best option is to take this vehicle for a test drive at Fred Beans Hyundai.
At Fred Beans Hyundai, our main goal is assisting our customers in finding the right vehicle for them, not for us. Whether you're interested in a new or pre-owned model, you'll be able to find your perfect match at Fred Beans Hyundai. Schedule a test drive with us today!