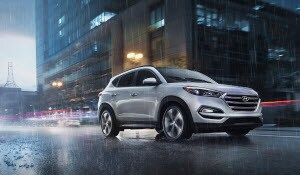 Purchasing a new car is one of the biggest, most important decisions you'll make. You want to make sure you get the right vehicle that can get you around Chalfont, Warrington, and Doylestown with the greatest of ease. While performance is important when looking for a new car, an equally vital feature you should look for is the inclusion of great technology, which is why you should consider the Hyundai Tucson as your next vehicle. 
Learn more about the cutting-edge technology of the Hyundai Tucson and discover why this is your best choice for a new vehicle in the coming year. 
Great Options for Connectivity
In an always "on" world, you want to be able to seamlessly connect your important technology so you can stay connected to your friends and family wherever you go. For consumers who care about connectivity, the Hyundai Tucson is one of the top vehicles in the compact SUV class. 
Driving in the Tucson means having multiple options for connecting your smartphone to your SUV's infotainment system. Apple CarPlay, Android Auto, and Bluetooth® technology are all at your disposal when you have access to the technology suite of this year's Tucson. 
Staying in touch is easier than ever before when you choose the Hyundai Tucson as your next vehicle. Check out our review of the Hyundai Tucson!
Touchscreen Capabilities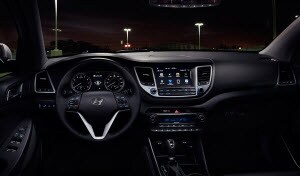 Having control of your car's entertainment system right at your fingertips is crucial for a fun driving experience, and this is another reason you need to take a ride in the Hyundai Tucson. This year's Tucson comes equipped with an 8-inch color touchscreen that gives you easy access to your vehicle's entertainment and information systems. 
With a simple press of your finger, you'll be able to access such great features as streaming SiriusXM Satellite Radio, turn-by-turn navigation to help you get where you need to go, and useful apps like Yelp. A world of music and information is there for the taking when you hit the road in the Hyundai Tucson. 
You can see the 5 available tirm levels here.
Features Meant for Style and Convenience
When looking at the technology provided by a vehicle, it's important to take a close look at what kind of infotainment system is offered. The Hyundai's infotainment system is called Blue Link, and it offers you a comprehensive experience that provides both convenience and safety.
By connecting your smart device to the Blue Link system, you'll be able to find important landmarks wherever you are, including options for recreation and gas station locations. On top of that, you can use Blue Link to remotely start your vehicle and adjust the Tucson's climate control system to make sure your vehicle is ready to go whenever you are. 
Test Drive the Hyundai Tucson
If you're a consumer in Doylestown, Warrington, or Chalfont that values innovative and useful technology in your vehicle, one of your top considerations in the coming year should be the Hyundai Tucson. Schedule a test drive of the 2017 Hyundai Tucson today at Fred Beans Hyundai and you're guaranteed to be blown away by this compact SUV's amazing technology features. 
Fred Beans Hyundai is your number one source for fantastic new and pre-owned vehicles. Visit us today and experience the Fred Beans difference!