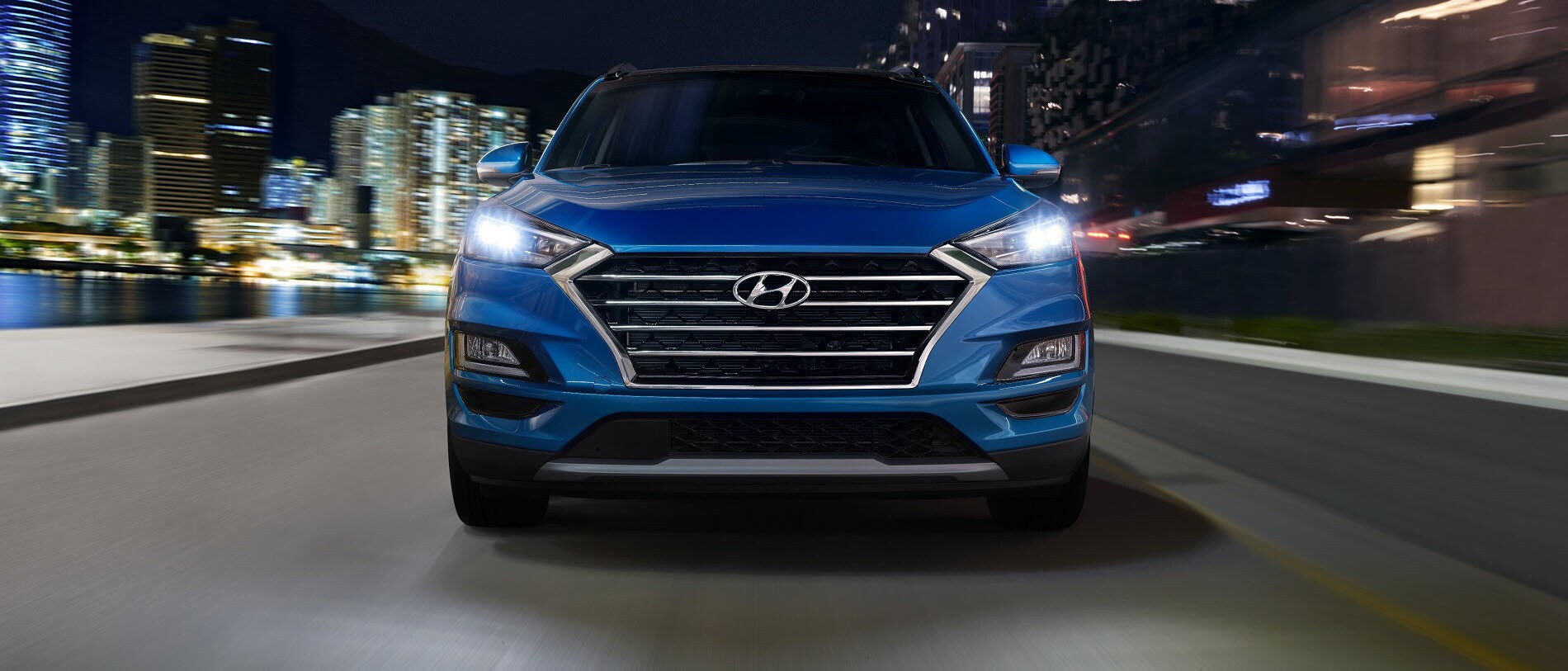 If you're looking for a new way to get around the Chalfont, Warrington, and Doylestown, Pennsylvania, area, nothing works quite like a crossover can. These versatile vehicles are packed with generous interior space, yet they tend to drive more like a sedan than like a full-size SUV. One of the most impressive features, however, is their fuel efficiency.
If you're looking for a crossover that will go easy on your fuel budget, the 2021 Hyundai Tucson is one of the best options. With an impressive fuel economy, you're sure to be spending more time on the road and less time at the pump. Learn more about the Hyundai Tucson Miles Per Gallon in this comprehensive review by the team at Fred Beans Hyundai Doylestown.
| | |
| --- | --- |
| 2.0L 4-Cylinder Engine | 2.4L 4-Cylinder Engine |
| 161 Horsepower | 181 Horsepower |
| 23 City MPG | 22 City MPG |
| 28 Highway MPG | 28 Highway MPG |
---
Is Hyundai Tucson Good on Gas?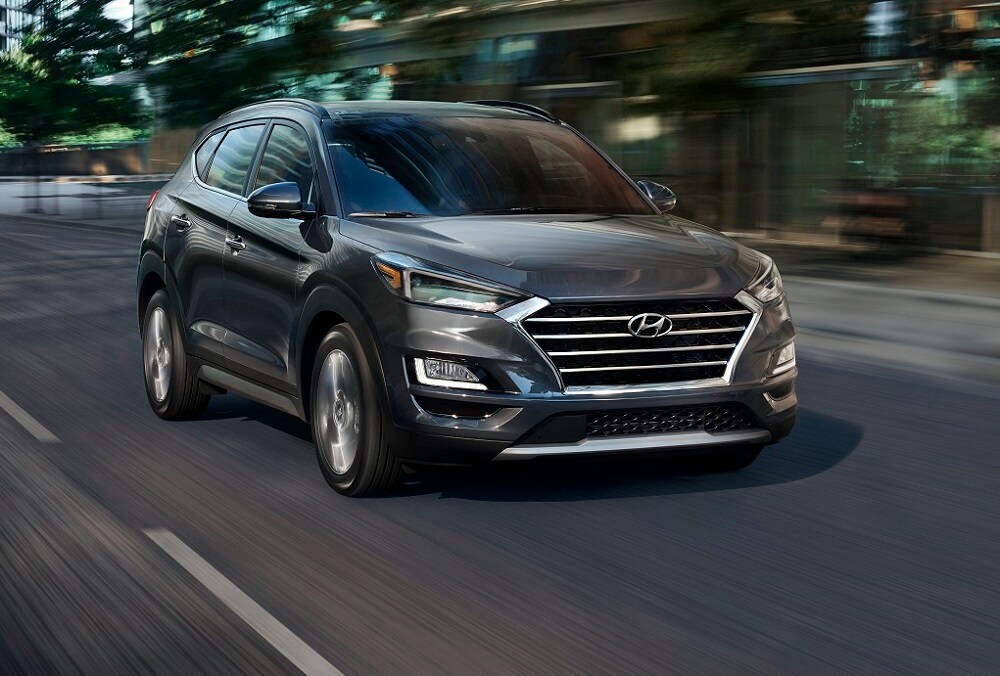 When you're looking for efficiency, you typically try to find a nice balance between horsepower and fuel economy. In most cases, fuel economy decreases as horsepower increases, and that works in reverse as well. The 2021 Tucson is an exception, as you won't see much change between the two available powertrains.
The standard Tucson comes equipped with a 2.0L 4-cylinder engine that produces 161 horsepower. With this engine, the Tucson earns an EPA-estimated 23 city/28 highway/25 combined MPG, allowing you to seamlessly transition from city streets to the highway while sipping fuel.
You can also upgrade to the available 2.4L 4-cylinder engine, however, and your horsepower increases to 181. Along with this, your fuel economy stays about the same, changing slightly to an EPA-estimated 22 city/28 highway/25 combined MPG.  

Why is the Hyundai Tucson such an efficient SUV? It's in part thanks to their direct-injection technologies. Not only do these types of engines provide a better fuel economy, but it also lessens emissions and elevates performance, giving you an all-around great drive.
2.0L 4-cylinder MPG: 23 city / 28 highway / 25 combined
2.4L 4-cylinder MPG: 22 city / 28 highway / 25 combined
---
2021 Tucson Drivetrain & MPG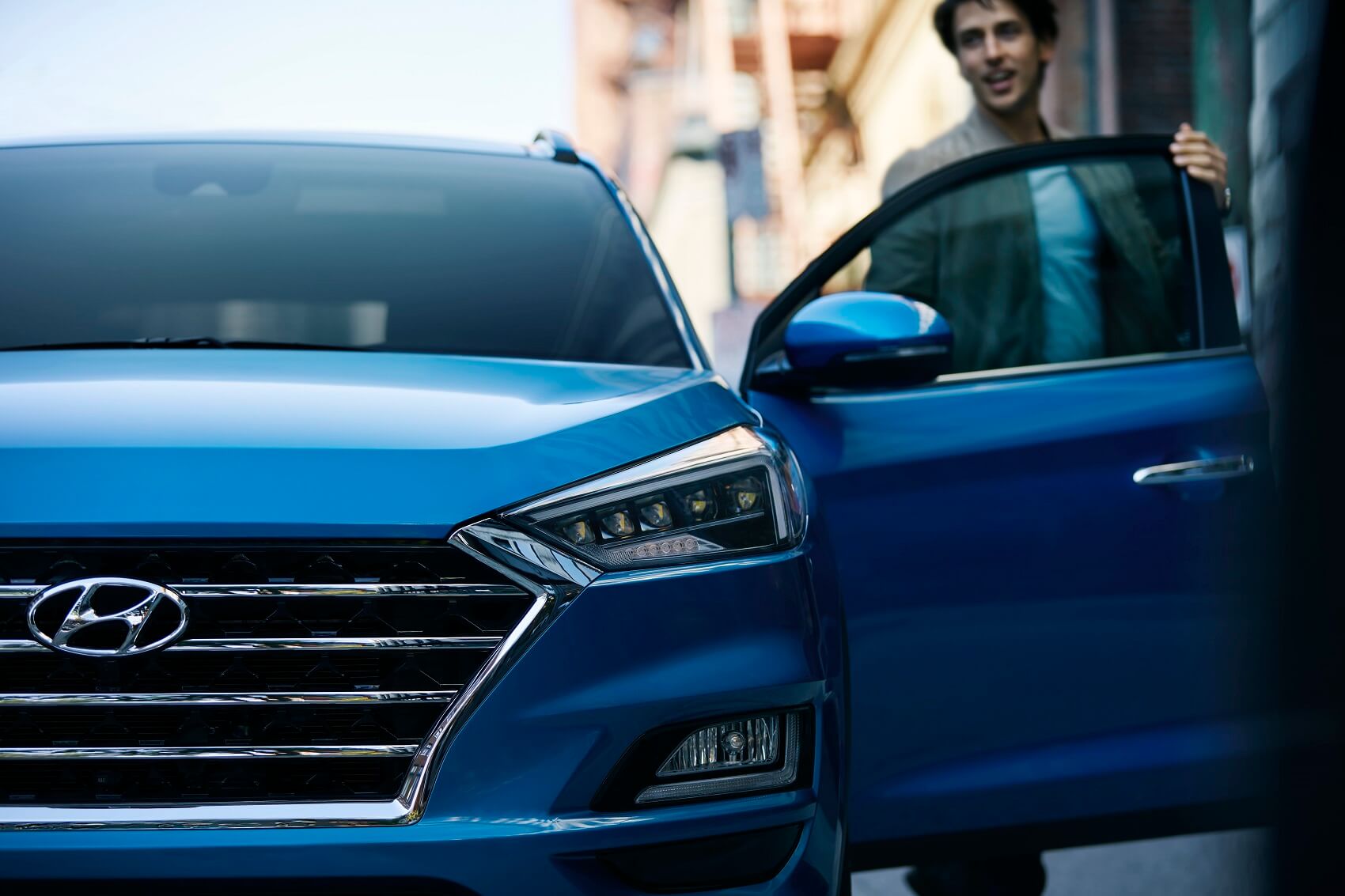 Both 2021 Hyundai Tucson engines come melded to a 6-speed automatic transmission that also aids in the heightened fuel economy. This transmission boasts SHIFTRONIC® technology, allowing you to switch from automatic gear shifts to manual to gain more control over your performance.
All Tucson trim levels also come standard with front-wheel drive, but each is available with all-wheel drive. This system improves your traction and grip and is great for conquering harsh weather like rain and snow as well as challenging terrain like off-road trails.
Opting for all-wheel drive can impact your fuel economy-however, it's not by much. This drivetrain has to put in more work to offer that kind of traction and control, so your fuel efficiency takes a small hit. Additionally, the generous 16.4-gallon tank helps keep you away from the gas station quite a bit.

To put it in perspective, take a look at the Hyundai Tucson MPG when paired with the available AWD system.
2.0L 4-cylinder MPG w/AWD: 22 city / 25 highway / 23 combined
2.4L 4-cylinder MPG w/AWD: 21 city / 26 highway / 23 combined
---
Ways to Improve Your 2021 Hyundai Tucson MPG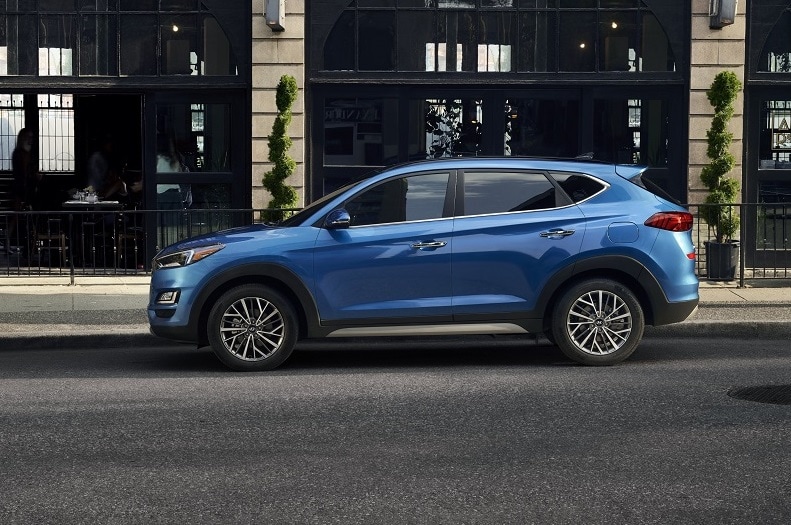 While the EPA-estimated MPG ratings are solid, they are just that: an estimate. The main thing that causes diminished efficiency depends on you. How and where you drive plays a big part in your SUV's fuel economy, but by practicing smart habits, you can watch your MPG soar.
Regular Maintenance: Routine maintenance is one of the best (and easiest) ways to ensure that your vehicle is in premium working condition. Not only does it help to prolong its lifespan, but it can also help your fuel economy.
Maintenance, like oil changes, filter replacement, and tire rotations, all promote higher MPG ratings. What's more convenient is that when you buy or lease a 2021 Hyundai Tucson, basic maintenance is free for three years or 36,000 miles (whichever comes first).
Tow Less Often: Did you know that the Hyundai Tucson can tow up to 2,000 pounds when properly equipped? While this handy capability is great for trips to the lake or while moving, you may also see a lessened fuel economy while towing.
Towing loads, even up to 2,000 pounds, makes your engine work harder, which results in more fuel being used. So, to elevate your MPG, only tow when necessary.

Lighten Your Load: With up to 61.9 cubic feet of cargo space, the Tucson can truly transform into a cargo-hauling machine. But the same logic as above works here, too. When your Hyundai is full of items in the rear, more energy is exerted from the engine to compensate. The result? You guessed it, a lower than estimated fuel economy.
Watch Your Tire Pressure: Your tires play a key role in your SUV's fuel economy. When you have the proper PSI (pounds per square inch of pressure), your tires will glide smoothly, promoting a solid fuel economy.
However, when your tires have too much or not enough air, it can do the opposite. Luckily enough, the Hyundai Tucson comes standard with an intuitive Tire Pressure Monitoring System. This can detect which tire is low and will let you know it's time to check your PSI.
---
Test Drive the 2021 Hyundai Tucson in Doylestown PA
Now that you know about the Hyundai Tucson Miles Per Gallon ratings, it's time to explore everything else this incredible crossover SUV has to offer. Head over to Fred Beans Hyundai Doylestown to experience this vehicle for yourself.
Will you be able to see yourself driving it around the Warrington, Chalfont, and Doylestown, PA, area for years to come? Get in touch today to schedule your test drive to find out!