These days, technology is every bit as important as power and performance in a vehicle, and if you consider the advancements in AWD, telematics, and transmissions, it's part and parcel of a vehicle's performance. Every auto manufacturer is in a race to better the others with the most outstanding technology package available, and savvy drivers in Chalfont, Warrington, and Doylestown are always keeping their eye on the newest developments. 
Among current manufacturers, Hyundai is one of the most respected companies out there. From the Sonata to the Elantra, and in every other kind of car they create, their vehicles are reliable and offer a great suite of technological options. Read about the Hyundai technology features, options, and packages, and stop by Fred Beans Hyundai of Doylestown today to get behind the wheel to test drive a new Hyundai today!
The Goal of Hyundai Technology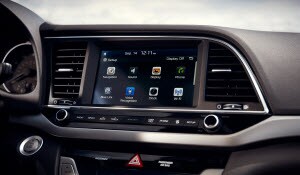 Hyundai is constantly striving to improve the technology offerings in their vehicles. Each new feature and package they offer has the sole goal of improving and enriching the interaction you have with your vehicle. Every aspect of every feature is designed to be intuitive, convenient, and take your information, entertainment, and safety experience to the next level. 
It Starts with the Engine
Of course, performance is still the key to any automotive experience, and Hyundai starts their tech improvements there. With advanced powertrains and engines that use GDI, or Gasoline Direct Injection technology combined with the Dual Clutch EcoShift Transmission results in a dramatic increase in both fuel efficiency and performance. 
A World of Connections
The entertainment and information (infotainment) technology in Hyundai vehicles are second to none. With integrated Apple CarPlay and Android Auto functionality, your smartphone and vehicle become one, enabling you to access all of your smartphone apps right from your vehicle's touchscreen and voice-control interface. 
Even better, the Blue Link technology lets you link your mobile devices right to your car so you can completely control the vehicle functions no matter where you are. From starting it by tapping your smartphone screen to making sure the doors are locked from your smartwatch, it's all right there. 
Comfort and Entertainment
Driver memory settings, automatic seat adjustments, and automatic climate control are just some of the ways Hyundai vehicles improve your comfort while driving. You can store complete comfort settings for two different drivers, and the smart trunk feature senses when you're approaching and opens automatically. While many vehicles offer heated front seats, Hyundai gives you heated back seats as well. 
For entertainment, you get multiple USB ports, access to SiriusXM radio, HD radio, Infinity speakers, and a broad variety of touchscreen options with an intuitive, sleek, and fast interface. Everything you need for entertainment and comfort are right at your fingertips. 
Hyundai Technology at Fred Beans Hyundai
The new performance, comfort, and infotainment features among Hyundai technology options and packages are sure to keep this manufacturer as a class leader among automobiles, trucks, and SUVs. If you would like to test drive one in the Warrington, Chalfont, and Doylestown area, stop into Fred Beans Hyundai for more information today!