The Hyundai Sonata, in essence, is classified as a family midsize sedan, and that's exactly what it delivers-an outstanding driving experience in every way. Hyundai is known for superb warranty coverage, exceptional performance, the very best in comfort and convenience, and just a satisfying overall package.
Of course, what most families in Warrington, Doylestown, and Chalfont want from their sedan is the ability to keep their family safe. The good news is that Hyundai delivers this in the new Sonata as well. Explore the range of options and packages that comprise the 2018 Hyundai Sonata safety features, and where you can test drive one for yourself today.
Hyundai Sonata Safety Features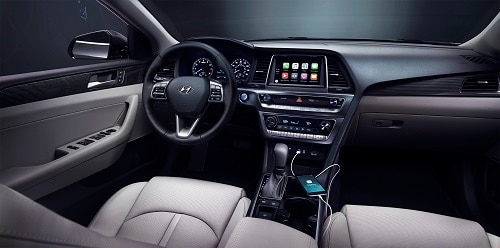 The 2018 Hyundai Sonata safety features are more than a list of attributes. They help you brake in time when the driver ahead makes a sudden stop. They keep you on the road when it's raining or snowing. The Sonata makes sure your family is safe from sudden traffic dangers. And while the base model provides needed protection, you'll get additional options as you move up in trims.
Base Trim Safety Features
The SE 2.4L base model includes five air bags and 4-wheel antilock brakes, along with brake assist and electronic stability control. A blind spot monitor stands out among the standard features: it's listed under the notable pros by Car and Driver. Child safety locks and cross-traffic alert are also included in the base model trim.
Higher End Options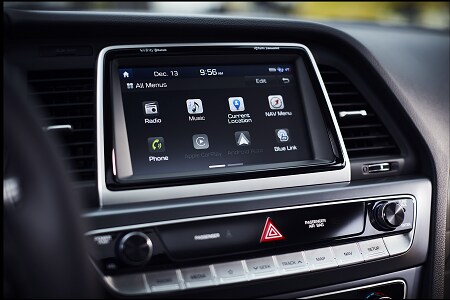 Upgrade to the Sport 2.4L or Limited 2.0T and you'll get plenty of advanced safety equipment. Along with the base features, these trims can add lane departure warning and lane keeping assist. You'll also get a rearview camera and a navigation system, which helps keep you on track without taking your eyes off the road. You'll also get Hyundai's Blue Link emergency telematics package, with features such as roadside assistance, crash response and safety monitoring.
Hyundai Safety Ratings
U.S. News & World Report rates the Hyundai Sonata at 9.7/10 for safety. The National Highway Traffic Safety Administration (NHTSA) and the Insurance Institute for Highway Safety (IIHS) both give the 2018 Sonata excellent ratings. The NHTSA awarded the Sonata with five stars out of five for frontal crash and side crash tests. IIHS testing gave the Sonata the highest possible score of Good for side-impact, rear crashes, roof strength and small to moderate overlap front tests.
Test Drive a Sonata with Fred Beans Hyundai Today
There's no question-Hyundai has maintained its legacy of producing outstanding and safe vehicles that give you peace of mind and keep you secure no matter what hazards you face. Certainly, the best features are available at the higher trim levels, but that's the case with most vehicles on the market.
Even at the base level, the Hyundai boasts superior performance when it comes to stopping distance as well as remarkable construction. No matter what level you choose, the Sonata will keep you safe on Chalfont, Doylestown, and Warrington roads. For more information, stop into Fred Beans Hyundai today.