The 2016 Hyundai Sonata is introducing a new way to look at automotive safety. While other vehicles in Warrington, Philadelphia, and Doylestown only offer airbags and a rearview camera, the latest Sonata features driver assist technologies, protective amenities, and systems dedicated to emergency assistance on top of an advanced system of airbags and an innovative rearview camera to better establish your peace of mind.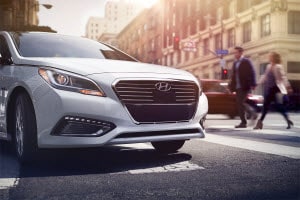 Here at Fred Beans Hyundai in Doylestown, we know that the 2016 Hyundai Sonata safety features are impressive, but do you understand how this sedan can keep you protected? If not, take a peek at our guide below for everything you need to know about this sedan's safety features.
Automatic Emergency Braking
The 2016 Hyundai Sonata comes with an available Automatic Emergency Braking feature to help you avoid a collision. Using a radar sensor and camera, it detects when you're in danger of a frontal crash. If an accident is unavoidable or you don't slow down or stop in time, Automatic Emergency Braking will instantly deploy the brakes to ensure full stopping power when traveling between 5 and 50 mph.
Blind Spot Detection with Rear-Cross Traffic Alert
Blind Spot Detection with Rear-Cross Traffic Alert is a radar-based system that monitors your surroundings and looks for vehicles traveling in your left or right blind spots. When it detects their presence, an audible alert and a light on the corresponding side mirror are activated to warn you of their presence. Plus, when you're backing out of a parking spot, this feature lets you know when a vehicle is approaching form either side.
Lane Change Assist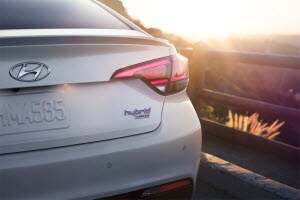 Working in conjunction with Blind Spot Detection with Rear-Cross Traffic Alert is Lane Change Assist. With this, you can better determine whether it's safe to change lanes. It calculates the closing speed of vehicles next to you and sounds a warning and flashes a light on the side mirror when it's not safe to change lanes.
Rear Parking Sensors
With rear parking sonars, parking is made easier and safer. Its distance sensors on the back bumpers sense obstructions and use a warning sound to let you know that you're getting to close to the object or the other vehicles behind your car.
Lane Departure Warning
Lane Departure Warning uses a detection system to monitor the markings of the lane you're in. If you start to drift out of it without signaling, this safety feature will activate a tone and a dashboard warning light to help you stay in your lane.
Blue Link® Connected Care
The 2016 Hyundai Sonata offers available Blue Link® Connected Care for help during the unexpected. If your airbags deploy, this system activates Automatic Collision Notification and Assistance. It then notifies the professional response center with the details of the situation and your location so they can dispatch first responders to you. Plus SOS Emergency Assistance is included in the system to request emergency services when needed.
Get an even better understanding of how the safety features in the new 2016 Hyundai Sonata and protect you and your passengers by calling or visiting Fred Beans Hyundai in Doylestown, PA, and schedule a test drive today!