One of the most popular ways to get around the Chalfont, Warrington, and Doylestown, PA, area is from behind the wheel of a Hyundai Sonata. This sedan offers satisfying performance with a surprising amount of interior space, for an overall exceptional driving experience.
While the Sonata is filled with exciting features, one of the most impressive aspects is its fuel efficiency. Sedans are among the most efficient vehicles on the road simply due to their size, but the Sonata takes it to the next level. Learn more about the Hyundai Sonata Miles Per Gallon ratings and discover if it's the right option for your needs.
---
Fuel Economy: Hyundai Sonata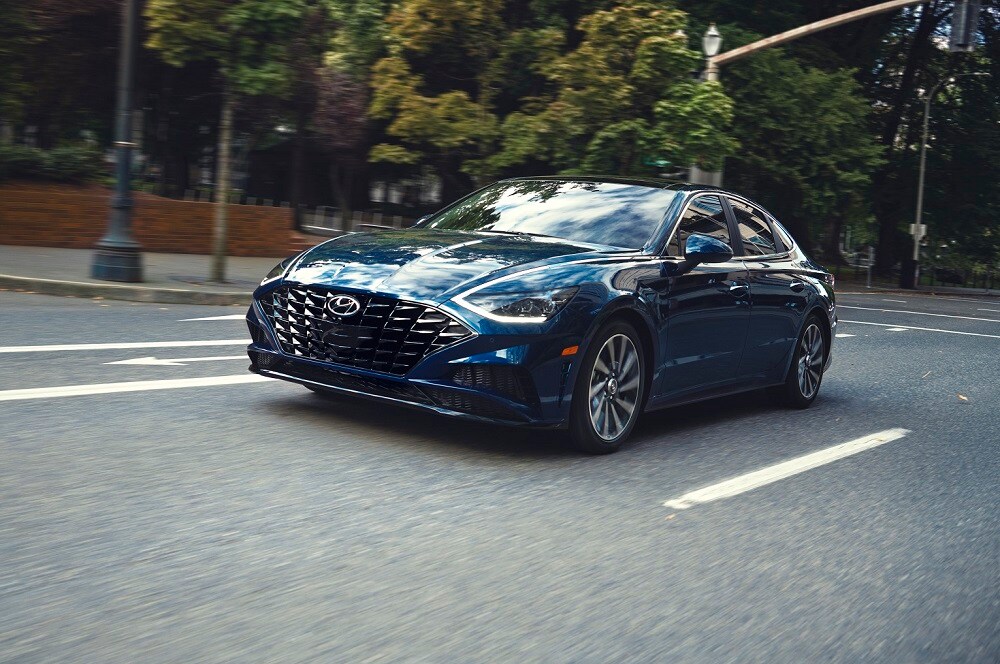 Like virtually every other vehicle on the road, your fuel economy will be dependent on how big of an engine you opt for with your Sonata. There are multiple options available, but the standard 2.5-liter 4-cylinder engine offers a fine balance between efficiency and power. It produces 191 horsepower and 181 lb-ft of torque, yet still earns an admirable official mileage estimate.
This powertrain incorporates idle stop & go technology to support your lower gas consumption. This system pauses engine function instead of idling, so you're not spending gas when your Hyundai Sonata isn't trying to move.
With the Turbo 4-cylinder included in the SEL, SEL Plus, and Limited trims, you'll get boosted to 195 lb-ft of torque, but the fuel economy doesn't drop much in response. That means powerful acceleration while maintaining the few gas station stops.

Check out the EPA-estimated mileage that these intelligently engineered trims can achieve:
SE: 28 city/38 highway MPG
SEL: 27 city/37 highway MPG
SEL Plus: 27 city/37 highway MPG
Limited: 27 city/37 highway MPG
---
Hybrid Models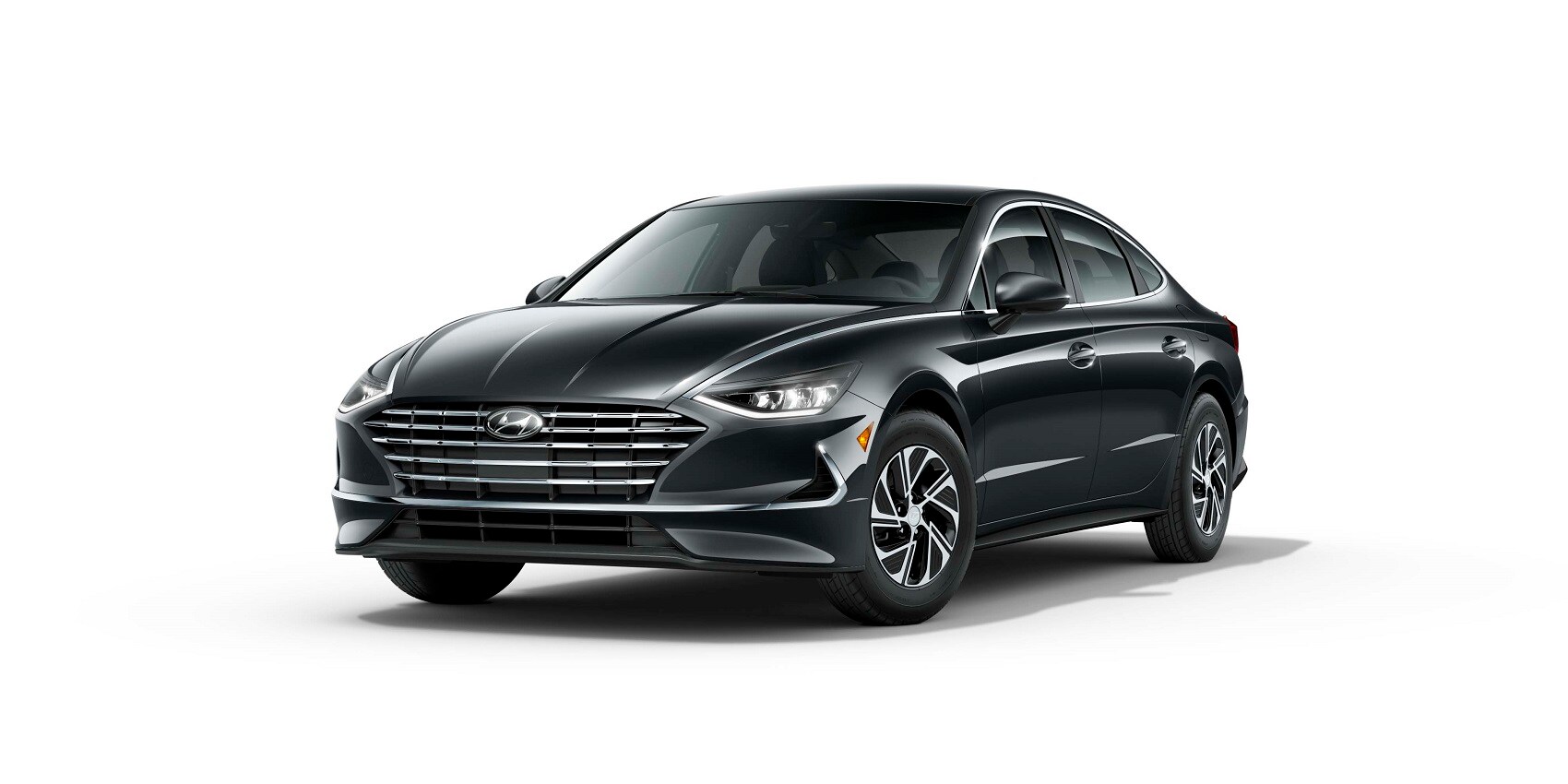 To enhance fuel economy even further, Hyundai entices drivers with the Sonata Hybrid. The inclusion of an electric motor reduces fuel consumption for a more eco-friendly and gas-saving ride. The standard version sports a 2.0-liter 4-cylinder engine that produces a surprising 192 horsepower of gas and electric combined.
Thanks to its hybrid engineering, however, all that power still leaves you with the following EPA estimates for the three trims:
2021 Sonata Hybrid Blue: 50 city/54 highway MPG
2021 Sonata Hybrid SEL: 45 city/51 highway MPG
2021 Sonata Hybrid Limited: 45 city/51 highway MPG
---
Technology for Better MPG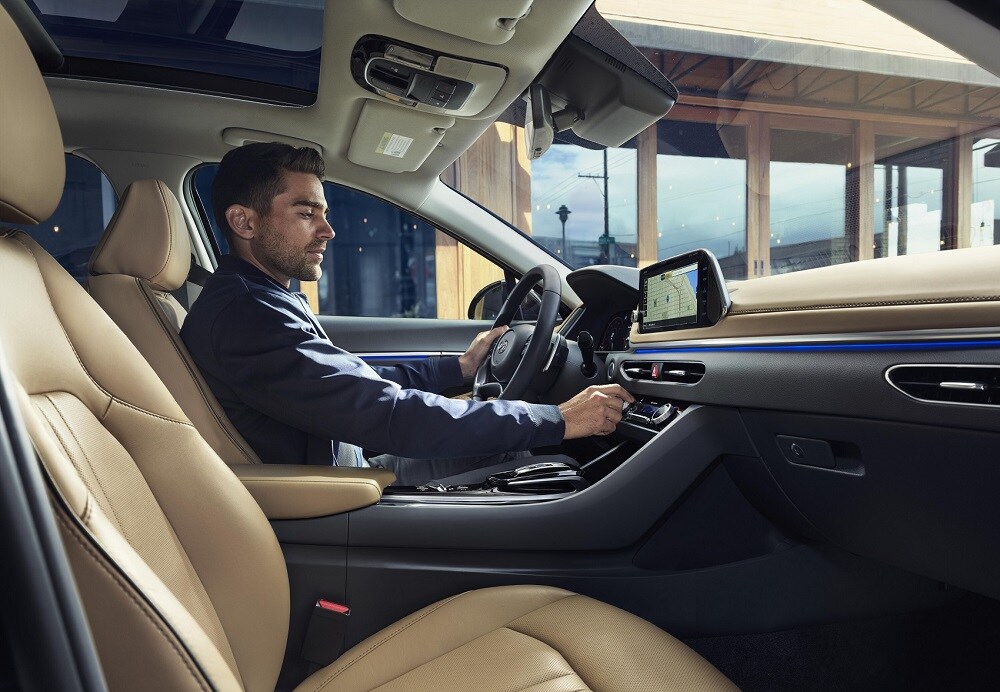 With ample options for innovative technology, the Hyundai Sonata incorporates many smart features into its fuel efficiency focus.
The smooth, consistent driving style of cruise control conserves fuel on longer trips where it's especially nice to keep your gas tank fuller. Use Smart Cruise Control (SCC) with Stop & Go for this benefit. It tempers your speed if traffic appears ahead of your Sonata, expanding the times that cruise control is helpful.
The available Color Heads-up Display is another feature that the fuel-conscious will enjoy. This 8-inch display projects the data you choose onto your windshield where it's simple to monitor. Keep track of fuel levels or your speed without even turning your head.
---
Touchscreens and Navigation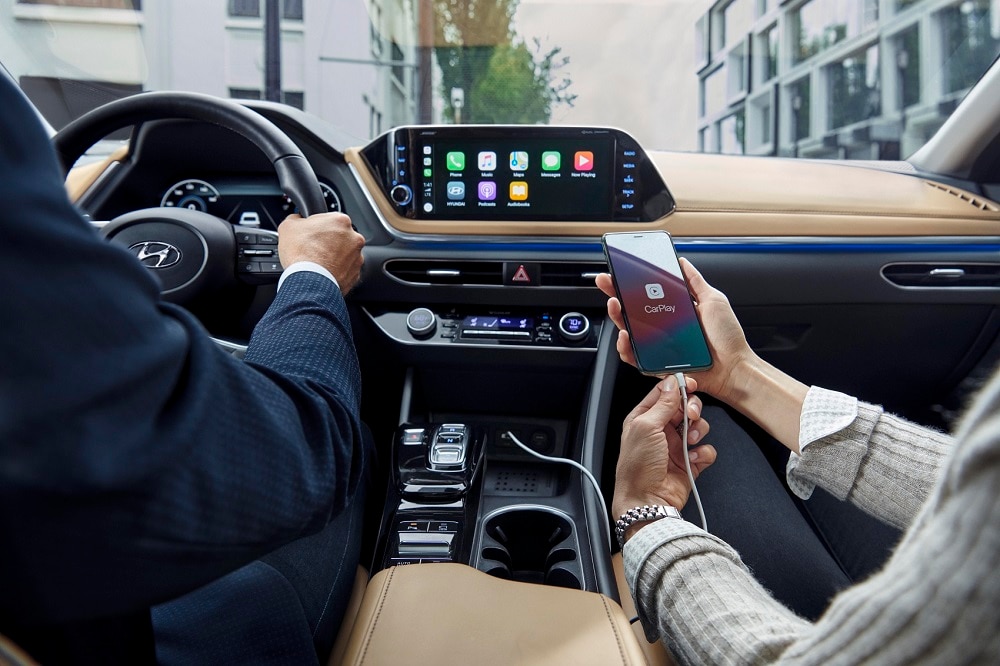 The available 10.25-inch color touchscreen in the center console of the Hyundai Sonata is also helpful. With available navigation & traffic flow information, you can find the most efficient route of the day. That saves you gas and time-a total win-win situation.
Drivers of the Sonata get to use their touchscreen for much more than navigation. These features can also be accessed via its responsive surface:
Available HD Radio™
Available SiriusXM
Standard Apple CarPlay® and Android Auto™ compatibility
If you decide to pass on the built-in navigation, you'll get to access the fun and convenience of a sizable touchscreen in your automobile. The standard 2021 Hyundai Sonata includes an 8-inch touchscreen. It's full color and presents high resolution graphics for any Sonata driver.
---
Comfort Meets Efficiency Inside the Hyundai Sonata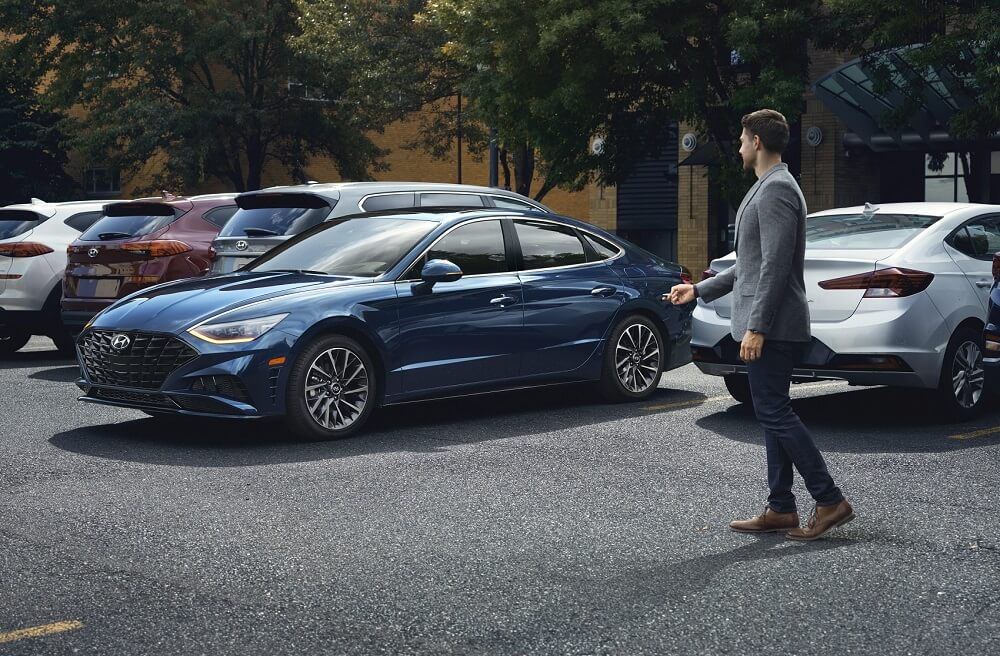 What could be cozier than a winter drive past a landscape white with pristine snow? Of course it takes fuel to keep you toasty when the outdoors are chilly-and the 2021 Hyundai Sonata is packed with features to make this efficient.
With available heated front seats and an available heated steering wheel, the heat you need for comfort is directed right where you need it. Available ventilated front seats serve the opposite function with the same result: sending air right where you want it for a more effective use of power.
If you like to warm up your car ahead of time, available Blue Link® includes remote start. Use an app or tell your smart speaker to start warming things up whenever it's convenient. In addition to its fuel-friendly attributes, Blue Link® makes life easier with lots of other features:
Remote car finder⁠
On-demand diagnostics and alerts⁠
Remote door lock & unlock⁠
---
Choosing the Trim for Fuel Efficiency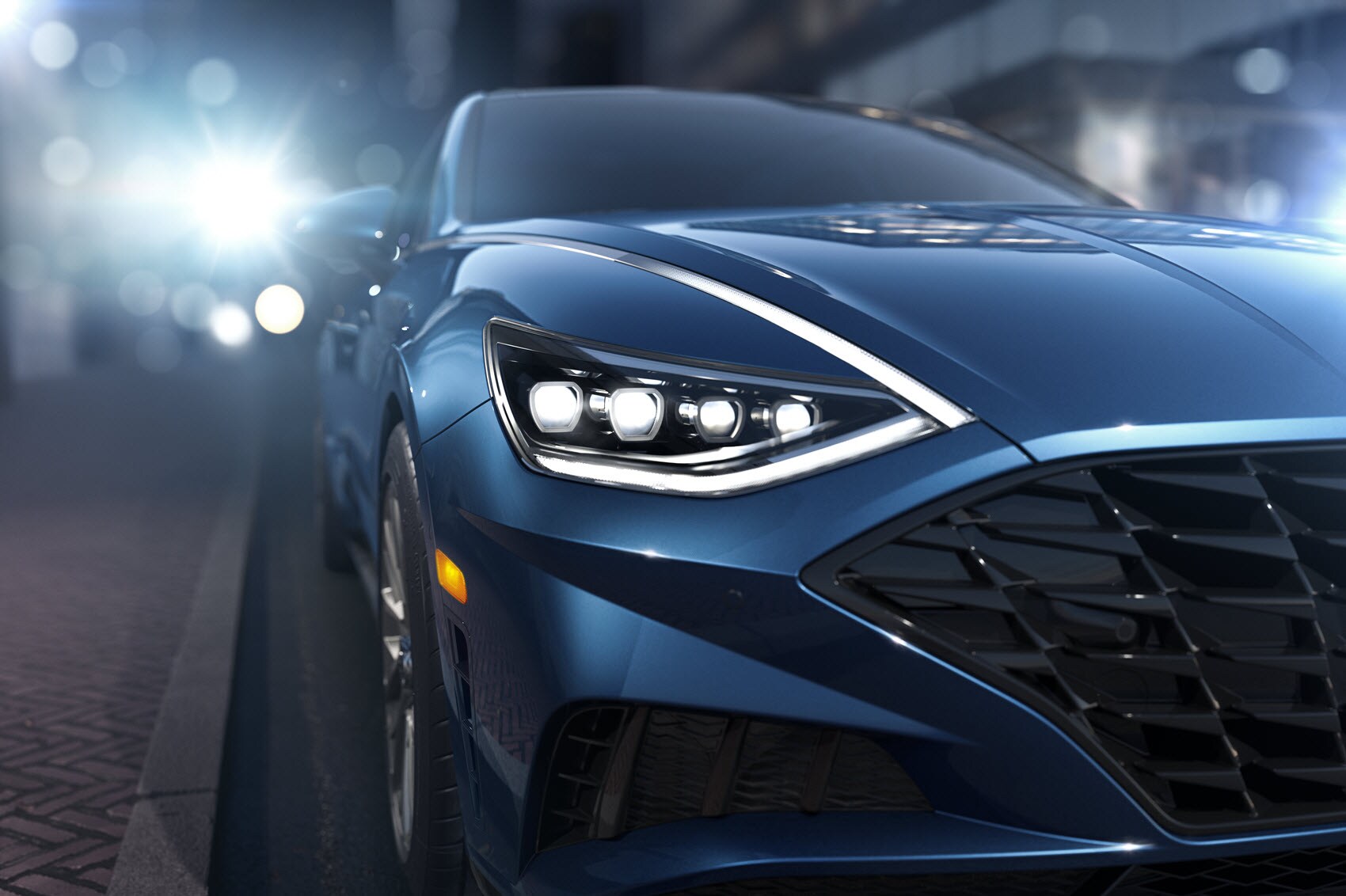 Since every trim of the gas-powered Hyundai Sonata gets such similar gas mileage, you're free to pick your model based on other features. The base trim, the Sonata SE, is all of what you need for the handy Smart Cruise Control (SCC) with Stop & Go.
Add a host of cool features with the Sonata SEL, which includes the following:
Blue Link®
Heated front seats
Turbo 4-cylinder engine
For a car that also acts as your navigator, the Tech Package on the SEL Plus is the way it go. It'll also brighten your days with the 12-speaker Bose® premium audio system and a panoramic sunroof.
If you're into climate control luxury, the Sonata Limited is the car to have for included ventilated front seats and a heated steering wheel. It's also choice for fans of standard leather seating and the Color Heads-Up Display.
---
Experience the Hyundai Sonata MPG
The Hyundai Sonata Miles Per Gallon rating is one of the most appealing factors of this sedan, but it's just one of many. Inside this spirited machine, you'll find everything from a durable engine to soft seating fabrics and advanced safety sensors.
To learn more about everything the Sonata can offer, head over to Fred Beans Hyundai near Chalfont, Warrington, and Doylestown, Pennsylvania, and explore one in person. Contact us today, and our friendly team will be happy to schedule a test drive for you.