The best thing about being a modern car consumer is getting access to top-quality features that would have been unimaginable even a few years earlier. Every single year, new car models seek to impress consumers like you with added amenities and technology suites. In 2017, possibly the most technologically rich car on the road will be the Hyundai Santa Fe. 
Providing advanced safety, modern convenience, and driver-assist technology, the Santa Fe has absolutely everything car shoppers in Chalfont, Warrington, and Doylestown want in a vehicle. The 2017 Hyundai Santa Fe, available to test drive at Fred Beans Hyundai, possesses technology that makes it the clear leader in the crossover SUV class.
Multiple Cameras to Keep You Safe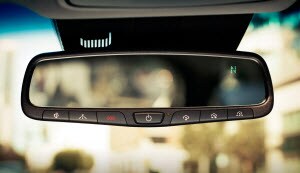 Thanks to rapid technological advances, modern cars are safer than ever before, and this is easy to see with the Santa Fe's multi-view camera system. Utilizing four cameras strategically placed around the vehicle, the multi-view system gives you a 360-degree view of the outside of the Santa Fe. 
When using the camera system, you'll be able to see the entire road, allowing you to stay in total control the entire time. If you're looking for a vehicle with an all-around top-down view to keep you safe on the roads, the Hyundai Santa Fe is a great choice. 
A Convenient Infotainment System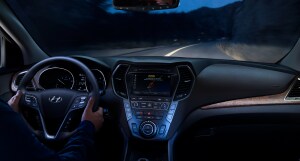 One of the best features to hit the market in recent years has been the ability to have a world of information at your fingertips with touchscreen infotainment systems. In this regard, the 2017 Hyundai Santa Fe delivers with two available screens to keep you connected at all times. 
First, there is eight-inch touchscreen navigation system, featuring Sirius XM Travel Link that helps you find your way around. Additionally, a seven-inch LCD touchscreen is your center of entertainment, controlling your car's audio system, including streaming radio. For all the information that you need, the Santa Fe delivers. 
Automatic Features to Help You Drive 
Driver-assist technologies are some of the newest innovations in car technology, helping you easily drive your vehicle no matter the road conditions. This year's Santa Fe boasts an impressive suite of driver-assist technologies that should excite any consumer. 
Smart cruise control monitors the road around your car and slows and speeds your vehicle based on traffic. Dynamic bending headlights move as you turn your vehicle, making sure you can see the entire road at all times. Finally, an electronic parking brake disengages automatically when your press the gas pedal, saving you time and worry. 
Test Drive the 2017 Hyundai Santa Fe
The Hyundai Santa Fe is the most feature-rich crossover that consumers in Warrington, Doylestown, and Chalfont could hope to find. A multi-camera system, dual infotainment options, and useful assist features make the Santa Fe's technology suite one that offers both fun and convenience in one neat package. 
Fred Beans Hyundai is committed to the best in customer service, and we can't wait to help you find your next great vehicle. To learn more about the 2017 Hyundai Santa Fe, stop by Fred Beans Hyundai today and ask for a test drive.