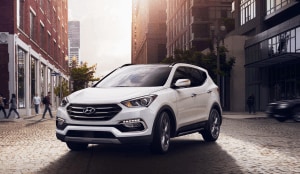 Routine maintenance is key to preserving your Hyundai Santa Fe Sport's powerful, fuel efficient, and overall impeccable performance. Following a recommended maintenance schedule will help you provide the timely services your car needs to extend its longevity.
To give you an idea of what your SUV will need at every service appointment, check out our guide to the Hyundai Santa Fe Sport maintenance schedule below.
Santa Fe: The First Appointment and Every 7,500 Miles
After driving 7,500 miles through Doylestown, Warrington, and Chalfont, you'll want to schedule your first service appointment for your Hyundai Santa Fe Sport. The 7,500-mile service appointment is quick and only includes a few maintenance tasks:
Rotate tires.
Inspect battery condition.
Inspect vacuum hose.
Inspect air cleaner filter.
These services are not as extensive as the others your Hyundai Santa Fe Sport will need. Nevertheless, you will still need to schedule them in 7,500-mile intervals to help your SUV run like new for years to come.
Every 15,000 Miles
The 15,000-mile service appointment for your Hyundai Santa Fe Sport will include more services to make sure your car stays in great shape. In addition to all the items required for the first service appointment, your SUV will also need the following maintenance items at every 15,000-mile interval:
Inspect brake pads, brake disc, and calipers.
Inspect brake hoses and lines.
Inspect air conditioning refrigerant.
Inspect drive shaft and boots.
Inspect suspension and steering components.
Inspect exhaust pipe and muffler.
Inspect propeller shaft for AWD models.
Replace climate control air filter.
Every 30,000 Miles
Once your Santa Fe Sport hits 30,000 miles, you will want to schedule a routine maintenance at a local certified Hyundai service center for its next set of required services. During the 30,000-mile service appointment, technicians will perform all the services listed for the 15,000-mile appointment plus these additional items.
Inspect brake fluid.
Inspect fuel filter, fuel lines, hoses, and connections.
Inspect fuel tank air filter.
Inspect parking brake.
Inspect vapor hose, fuel filler cap, and fuel tank.
Replace air cleaner element.
Additional Maintenance Items
The 7,500-, 15,000-, and 30,000-mile service appointments include most of the necessary maintenance items for your Hyundai Santa Fe Sport, and each should be scheduled at the appropriate mileage intervals. However, your SUV will also need a few extra services at certain times to ensure a long-lasting performance.
Here are the extra maintenance items required for your Santa Fe Sport and when they need to be scheduled.
Inspect valve clearance: every 60,000 miles.
Inspect drive belts: at 60,000 miles and every 15,000 miles.
Replace coolant: at 60,000 miles, then every 30,000 miles.
Replace spark plugs: at 45,000 miles.
Schedule Your Service Appointment in Doylestown, PA!
If you want to keep your Hyundai Santa Fe Sport running like new, make sure it gets the timely routine maintenance it needs. If you're due for service, schedule an appointment today at Fred Beans Hyundai in Doylestown near Chalfont and Warrington.
You May Also Like: